From technology adoption to mergers and acquisitions, trends in the dermatology and aesthetics markets over the last 18 months are shaping future decisions for practice leaders. Alternative patient engagements proved key for practices to continue driving performance throughout the pandemic, and many of these new technologies and services are proving to have staying power.
To better understand the impact of consumer behavior on dermatology practices' adoption of online scheduling, we took a look at the average number of appointments booked online from 2019 through 2021 for a sample size of 25 NextPatient dermatologists. There is a marked shift in the data from 2019 to 2020, a 65% increase from year to year, and that trend sustained with only a 6% drop-off from 2020 to 2021.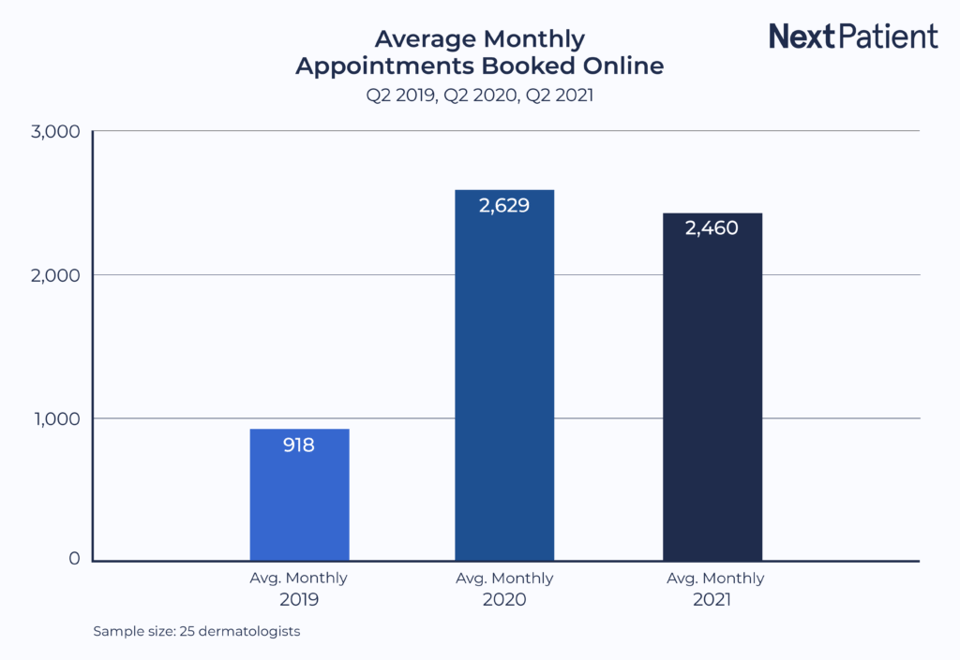 "Out of necessity, the pandemic drove patients to begin evaluating their health care provider under consumer-like terms, including whether a provider's scheduling availability is online," says Kyle Morham, co-founder of NextPatient. "As a result of this change in patient behavior, we've seen an undeniable shift in practices' buying attitude and adoption of online scheduling."
Read more about these and other market trends in dermatology and aesthetics at Practical Dermatology.